We invite students, recent graduates, as well as anyone interested in international relations to participate in a fascinating study trip to one of the 4 headquarters of the United Nations - to the UN headquarters in Vienna (other headquarters are located in Geneva (Switzerland), Nairobi (Kenya) and New York (USA)).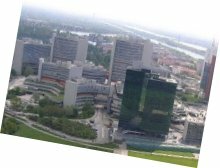 During the trip, students will be able to not only visit the UN building, but also communicate with the staff of the United Nations and learn about their daily work. And especially for the group a series of lectures about the UN as a whole and its individual units located in Vienna will be organised. The lectures will be conducted by the employees of various departments of the United Nations.
Thus, on one hand, the trip will give an idea of the immediate work of the UN; and on the other hand, will allow to directly communicate with the staff of various departments. In addition, the program has entertaining and cultural elements. Participants will explore the city and visit the main attractions of Vienna. Also, students will have free time in the city. After the program students will receive a document confirming participation in a study trip to the United Nations in Vienna.
Study trip to the United Nations - an extremely interesting event that combines educational, cultural and entertaining elements in one programs!